Business
Emerging Trends in the Coffee Industry
Coffee is the most consumed beverage world-wide, with over 2 billion cups consumed per day; the coffee industry is only expected to rise (source). In the Middle East, Saudi Arabia is considered the fastest growing coffee market; with a 9.6% annual growth rate (source). Experts project that the compound annual growth rate of the coffee market in Saudi Arabia would reach 6.2% during 2021-2027 (source). This expected growth is largely linked to the change in consumer preferences, fast-paced lifestyle, and the growth of the working-class population (source). Many new trends emerged in the past few years, like specialty coffee and boho style cafes. A Lot of these trends have emerged from the west before finding its place in the local market. This article examines future trends that would become prominent in the coming years, for visioners to seize these opportunities.
Plant Based and Non-Dairy Milk
The food allergy and intolerance products market is an underserved market in Saudi Arabia in general. One common food allergy is lactose intolerance. According to the "Global Lactose Intolerance by Country" report, 28% of the Saudi population suffer from lactose intolerance (source); and the numbers globally are much higher. This has created a market worth over $18.81 billion for non-dairy milk products, and this number is expected to reach $41.06 billion by 2025 (source). This trend has extended to the coffee industry, leading to the creation of plant-based non-dairy milks coffee lines. Lactose intolerance is not the only reason for the popularity of these new additions, it's also the rise of vegan populations. Veganism is an emerging trend that affected the food and beverages industry, and many brands are reacting quickly to match up with the new changes of behaviors and diets. It is worth noting that the top plant-based milk options used in the process are: oat, almond, soy, and coconut milk (source)
Nitro Cold Brew
Another trend that is expected to grow is the nitro cold brew. Nitro is a cold brew infused with nitrogen and served from a keg or canned. The drink is well-known for its creamy and foamy texture, nitro bubbles, and subtle flavor (source). This nitrogen infused coffee takes cold brew to another level. Nitro cold brew gained a wide appeal maniny because of the complexity and richness of its flavor, as it has a thick and slightly sweet flavor while containing no dairy nor sugar. The process of making a nitro cold brew is long and could be costly, as it takes 12-24 hrs to brew; and it requires assembling a complex series of faucets, tubes, hoses, gas tanks, and keg connectors (source).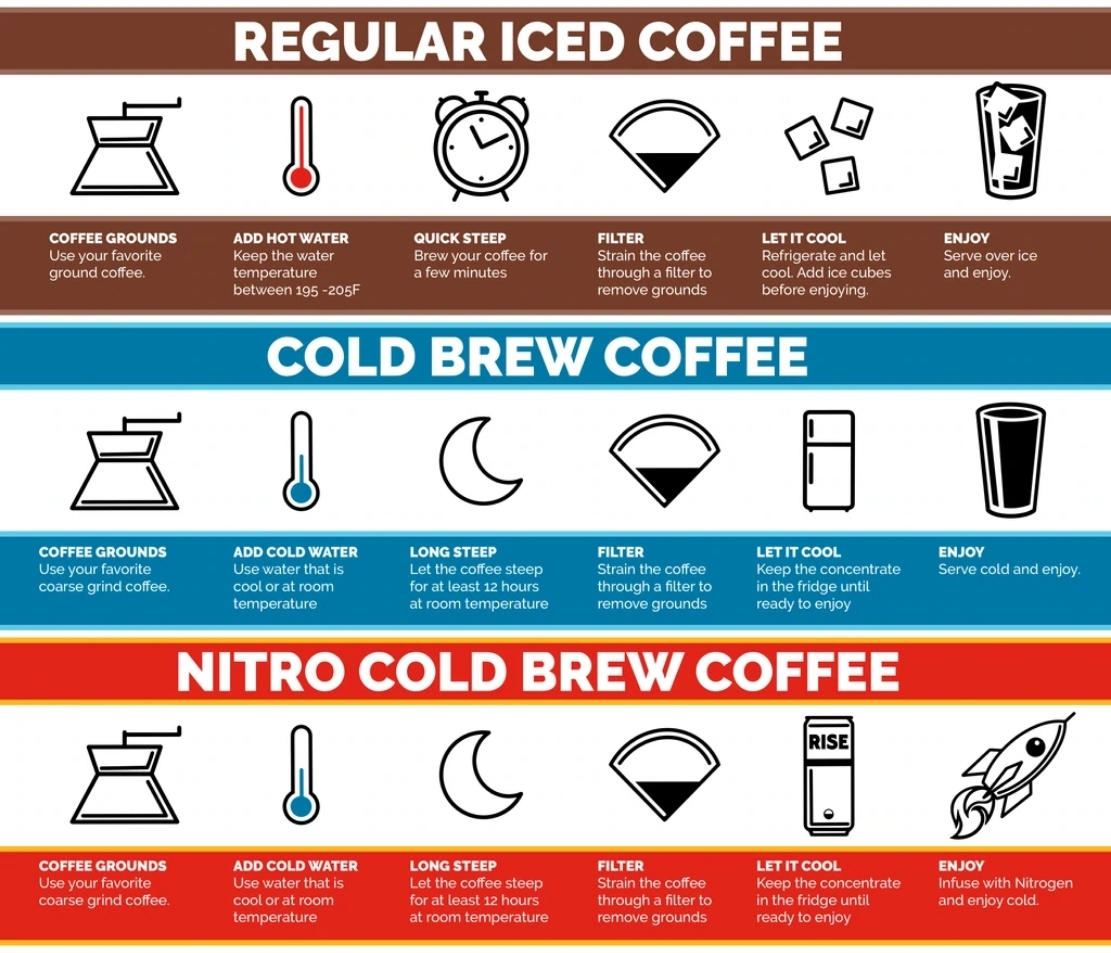 Nitro cold brew could be also served in a can, in fact the nitrogen is a natural preservation making the shelf life of this product exceeds a year in comparison with the standard shelf life of a roasted beans which is six-weeks (source). This makes nitro cold brew a profitable option and a great addition to cafes' menu. Selecting a high quality coffee beans and the right equipment is necessary to ensure the success of adding this option to your menu.
Automations
The third coffee culture has had a large emphasis on the personalized craft of coffee making. Words like "hand-roasted" or "brewed by hand" have been used often to market cafes (source). This has created a sense that people are looking mostly for a personalized cup of coffee, but the surveys show otherwise. UCC Coffee survived out-of-home coffee consumers and asked them "what they expected from coffee shops?" and eight out of ten respondents said "consistency" is the most important factor when visiting a cafe (source). Many industries are moving towards automation, and the coffee industry is not any different. David Walsh, the Head of Research & Development at Marco Beverage Systems, believes that "There's an implicit (and sometimes explicit) promise with a manual pour over coffee offering," he adds. "It often promises quality, but when human error and consistency come into play, the result can sometimes be disappointing (source). Consistent quality becomes key to consumer satisfaction, hence it's no wonder that there's an increase in automation in the coffee industry; whether that's in production, processing, roasting, or brewing.
How to Respond to the Change
All these changes could be overwhelming for companies and brands, especially if it carries a heavy price tag like installing a Nitro system. However, there are few things that brands and companies could do to adjust to all these changes. First of all, you have to be open minded to these new trends, as change is the only consistent. The coffee industry is very competitive and brands that are not flexible enough might risk becoming part of the past. Small alterations could make big changes, for example having dairy-free milk options doesn't cost much but could attract a new segment to your target market. Do a cost-benefit analysis to understand if buying special equipment would help you generate profit in the future. It's also important to understand where your cafe concept fits with the new changes? Make any necessary and feasible tewks to bring a new feel to your customers.